Brief overview
On this page you can find projects from my channel, as well as featured software. Please credit Enderman/MalwareWatch and/or original authors if you plan to publicly share the information or showcase given software anywhere on the Internet. Sharing is caring!

If you'd like to get your software project or an idea featured on my channel, contact us at [email protected]! Heads up: most of the suggestions are turned down, since the quality bar is extremely high. Don't be disappointed if your project doesn't quite make it. Contact us only if you have something actually worthy to share - that will save a lot of time for us and strengthen your chances of securing a spot here. Thanks in advance.
Submissions
We will respond only to the best of the best submissions,
we ignore
intentionally garbage or common mainstream malware (e. g. GDI, BitBlt spam, MBR overwriters, forkbombs). The best types of submissions include but are not limited to:
HDD images of severely Adware-infected machines   The best for comprehensive analysis
Rogue Antimalware/FakeAV programs and collections The most valued
Annoying PUPs
Rare OpenCandy and/or fake installers with optional offers
Adware modules & droppers
Toolbars & docked browsers
Browser link & start page modifiers
Any fake or malicious Adobe Flash Player installer    The rarest installers
Miners and Spywares
are not preferrable
. If you ever stumble upon any of the mentioned families of malware, it would make my day if you sent them right to our mailbox. One man's trash is another man's treasure. It's an important malware hunt for me.
The submissions of that kind have the most potential of being featured in my future videos.
Everyone will be credited under my videos and here, if put on the website.
Composing an e-mail
Already got something to share? That's great news! Let me show you where to begin. For convenience sake, I created a template. It's easy to compose and search for in the flood of messages in my inbox! Here are a few rules you might want to stick to:
Title should contain the words "submission" in it. I check most of the e-mails, but "submission" is of way higher priority.
Got no idea what to call the e-mail? Type in Adware Submission.
In the e-mail itself, tell me where the file originated from. If its origin is some shady website, attach the link to it as well.
If you're sending a website submission, that's perfectly fine! Just link it, and that's it!
Optionally, attach a screenshot of it in action.
Double-check you send the malware to a correct recepient -

[email protected]
It's important to note that the points above aren't requirements. They're just parts of a template - something to build your e-mail upon.
I also check the spam folder
, so no need to worry about it getting there. Wish you great time and luck performing your own adware/modern malware runs. Stay caring and safe, both in real life and online.
Examples
Here's an example of 2 well-composed e-mails, which I quickly located in my inbox, analyzed with almost no effort and responded to.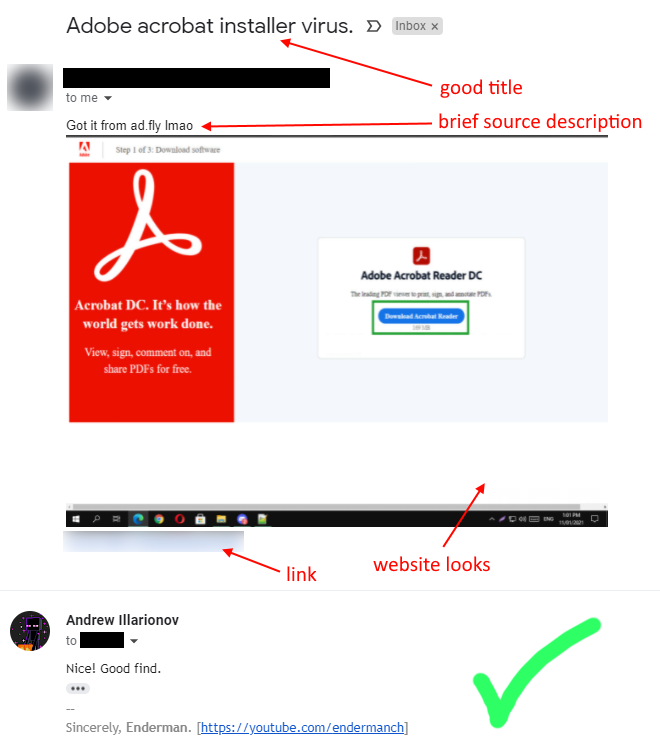 Successful transfer
This might get featured in a future video!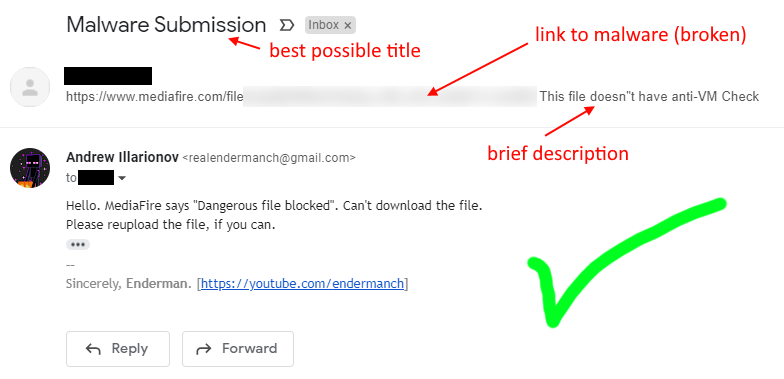 Failed transfer
I couldn't acquire the sample and explained the reason in a reply.